Widen the gap with competitors and increase employee engagement with data-based decisions throughout.
Data and data collection have always been vital contributors to business success; however, with the advent of hybrid work, companies are beginning to realize that data must now become more than just part of their business strategy, but a central part of their culture as well. With 74% of U.S. companies already using or planning to implement a hybrid model, data has become the cornerstone of team accountability, time tracking, client and employee engagement, business development, and more.
Using data to drive decisions has been shown to have exponential benefits for all business, regardless of industry or workplace model.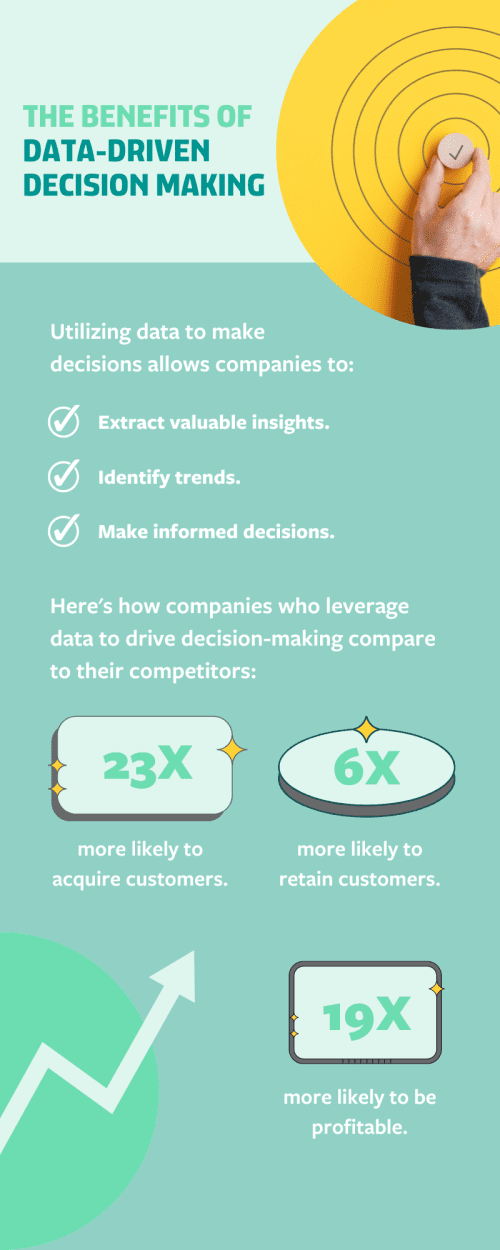 So, how can leaders begin to foster a culture of data-driven decision-making, where all team members understand the value of data and are committed to leveraging it to make informed decisions, stay accountable, and allow it to impact their work in a positive way? Here are five steps we adhere to at Transcend — and that all leaders can take — to create a data-first culture that will drive engagement and elevate performance. 
4 Keys to Creating a Data Driven Culture
1. Be Transparent
Make data accessible to all team members and clearly communicate the kind of data you are collecting and why. We never recommend keystroke monitoring or desktop surveillance, which has recently been shown to lower productivity and generally backfire on the companies using it. However, any form of data collection might make employees feel micromanaged if they don't understand the reason behind it. For example, at Transcend, we are big on tracking time across roles and projects, giving us insight into our productivity as a team and ensuring fair pricing for our clients. Using software like BQE Core allows us to track analytics for projects while empowering our employees.
With data transparency, team members can understand how their specific role fits into broader goals and projects that the organization is working toward. Providing access to data dashboards, reports, and other analytics tools enables everyone to analyze data and extract insights, essentially becoming the CEO of their role. When team members are informed about the performance of their projects, understand customer needs, and can identify trends, they are more likely to make better decisions and have accountability for outcomes that are connected to their work. 
2. Train Your Team
Once you've set up a data infrastructure that works for your organization, don't skip the important step of training your team on how to use it. Investing in the proper training so employees can collect, analyze, and use data themselves, cutting out the middle-man, is both empowering and performance-enhancing, ensuring a greater data-first culture.
Providing training on data collection tools, analytics tools, and data visualization techniques enables team members to extract insights from data that they can use to drive decision-making. 
Here are a few examples of ways your team can collaborate around data:
Time tracking is an essential practice for collecting accurate data, so be sure to train your teams on the software. Teams who understand how to correctly track their time, and can decipher their own time-tracking analytics, will quickly learn how to use time more productively, when to give it away, and how to treat their time as a precious commodity.
Don't use a one-and-done approach to training. By implementing a cadence of follow-up trainings, you will give employees an opportunity to freshen-up on software and data types, while ensuring buy-in from your team. Investing time in training also gives team members the forum to ask questions, raise concerns, and make helpful suggestions about data collection from their unique viewpoint.
Continually evaluate the types of data you are choosing to track and ensure that it is still of value to your business. Always be looking for new types of data that could prove to be beneficial.
3. Foster Collaboration
Data sharing and collaboration among team members is an essential component of building a data-first culture. When people share insights and collaborate, it gives them the opportunity to leverage their collective intelligence to make better and more informed decisions. Here are a few examples of ways your team can collaborate around data: 
Profitability and pricing strategy data can be compared and centralized to create best practices.
Sharing data about current processes and systems, collaboration around process improvement, and discussions about how people are using their time, are culture boosters that will increase productivity and performance through collaborative problem solving.
Holding end-of-project analysis meetings, as well as monthly and tri-annual cross-team meeting that are centered around data sharing, gives insights into the group's strengths and opportunities for improvement, and creates space for a data-first culture within the enterprise.
Collaboration around data is important for all teams, but it especially lends itself well to building a successful hybrid culture and data-driven organization. The diverse areas of knowledge between teams allows for problem-solving and decision-making as a group while keeping teams accountable to and aware of each other, even if they are physically far apart. 
4. Establish a Data Governance Framework
CIO Magazine defines data governance as "roles, responsibilities, and processes for ensuring accountability for and ownership of data assets across the enterprise. It encompasses the people, processes, and technologies required to manage and protect data assets." Establishing and communicating a framework that defines your data collection policies, storage, management and security protocols ensures not only that data will be collected ethically, but also that everyone is on the same page about what data is being collected and why.
To touch back to transparency, allowing everyone to have a lens into your data governance framework tends to make employees more mindful of time and expenses, watching profitability on projects, and making decisions that are best for the company as a whole.
Data collection enables organizations to gather insights into their customers, measure the impact of their investments, and make all-around better business decisions. But by making the effort to create a data-first culture, companies will enjoy the added benefits of increased performance and engagement from their employees. Teams will have more insight into their decisions and people will become accountable and invested in how their role affects the goals of the enterprise. As hybrid work cultures become the norm across the U.S. and the world, putting data first will create more connection in and between teams and give employees something tangible to work from when they may no longer be face-to-face with their peers in the office.