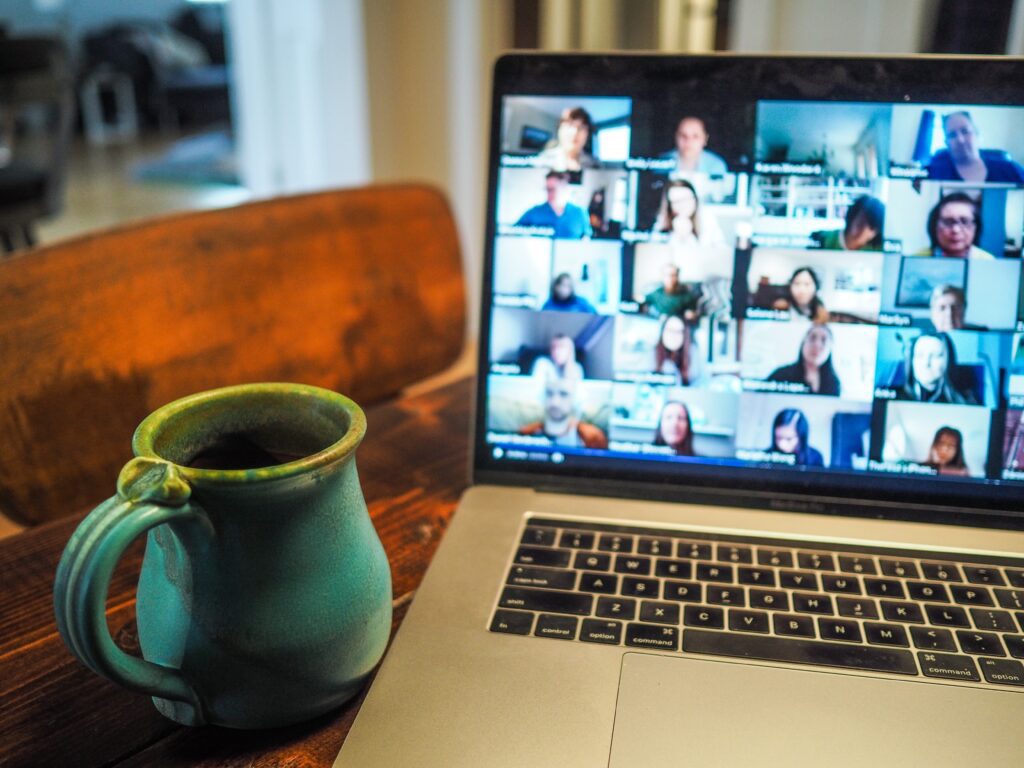 Welcome to the future. Virtual meetings are here to stay and will only become more prevalent and important for your teams, customers, suppliers, and investors moving forward. Some of you have been using remote technology to engage your teams and run meetings for years, while others have been thrown into the vortex of remote engagement for the first time. Whether you lead a small team or an entire organization, we hope this article helps you to cut out the guess work and further engage your teams, build connection, and increase productivity using remote technology.
Choose the right platform.
If you've never or seldom led a virtual team, it may be daunting to find the right technology platform for your needs. There are so many options out there. We recommend you start simple.
Find something that is easy to use, has helpful and quick tutorials, and doesn't cost a lot of money. First rule of thumb: use what you have. However, if you are searching for some options, here are a few that can get you started for free or at low cost: Zoom, Google Hangouts Meet, and GoTo Meeting.
Ensure the platform allows for videoconferencing. You may have experienced many webinars and remote calls without using your webcam, and the chances you've zoned out, gotten distracted, or decided to do something "else" productive on the call is highly probable. However, having face-to-face interactions is an essential component for connection and true engagement.
Make sure the platform provides you with ways to interact. This can be through features like screen sharing, polls, whiteboards, or breakout rooms. From our research and experience Zoom provides the biggest bang for your buck in this regard and makes these features easy to use. If you are working with already existing technology, set up a quick 'how to' meeting with the office tech guru to learn its features.
Once you've chosen the right platform for your specific needs, practice using the features with colleagues, or even your family, before you conduct your first meeting. This may seem like a waste of time given the current demands on your schedule but taking a few extra minutes to try it out can limit hiccups for first-time users.
Prepare Your Participants.
Once you've obtained the right platform and know how to use it, it's time to meet. Before you do, be sure you've properly prepared your audience. Create an agenda with these three components:
1. Identify the purpose of the meeting. Communicating why you're meeting is the fist step to engaging your audience before the meeting even starts.
2. Identify how you want your team to participate in the meeting. Do you want them to listen and take in information, problem-solve, give feedback, or make a collective decision? The type of participation you want them to have matters in how they will engage and how long your meeting should last.
| | | |
| --- | --- | --- |
| Meeting Type | Participant Meeting Behavior | Recommended Time Frame |
| Informative | Listen and Take Notes | 15-20 Minutes |
| Collective Decision-Making | Listen, provide input, and assist in making a decision | 30 minutes |
| Problem Solving | Contribute to ideas and decide on a solution or set of possible solutions | 60 minutes |
| Feedback | Listen and provide constructive feedback or perspective | 60 minutes |
3. Note: If you need to have a meeting that is longer than 60 minutes, consider chunking it into smaller timeframes with ample breaks in between. For instance, a 2-hr meeting could be chunked into four 30-minute sections or two 60-minute sections with breaks.
4. For meetings that require decision-making, problem-solving, or feedback, consider providing questions, pre-reads, or additional context so participants can process the information ahead of the meeting and come prepared. The more information participants can process in advance, the better prepared they will be to participate, making the most of your time together and enhancing the level of collaboration.
Run A Highly Efficient and Engaged Meeting.
Conducting virtual trainings and engaging with global and remote teams over the years has taught us some tips and tricks to run efficient but engaging virtual meetings. Here's what we've learned.
1. Outline your talking points and instructions to participants ahead of time. If you are using any remote platform features, like polls, be sure you've set them up prior to your meeting. This ensures you don't miss essential cues and stay on topic.
2. Provide time at the beginning of your meeting to check-in and set the tone for your time together. Because you are remote, it's even more important to take a moment before getting to the task at hand.
Example Check-in: One Word Whip
Provide a sentence with a fill-in the blank and have everyone provide one word. For instance, the energy I'm bringing into our meeting today is _____ or with this team, we can _______.
Example Check-in: Artifact
Before the meeting ask everyone to bring one artifact from their home that represents their hopes for the day. Give them 30 seconds to share.
3. Before you dive into the content of your meeting, provide tech norms highlighting expectations for how participants will interact with you and the technology throughout the meeting. For instance, you might have them find their tool bar, the "raise hand" icon, and/or practice annotating on a virtual whiteboard.
Example language:
The biggest issue with virtual sessions is lack of verbal interaction. We often don't know when to talk or are afraid we'll talk over someone and so choose not to speak up. For our purposes throughout this meeting, it is critical we all have a voice. Here are some guidelines we'll follow to make the best use of our time:
Mute yourself unless you are speaking, so that we are not disrupted by background noise.
You may sometimes talk over someone inadvertently. It's okay! Don't let it deter you from speaking up. If you are interrupted, be gracious. We are all doing our best to navigate the technology.
Feel free to use the chat feature to send us confirmation, identify needs, or ask a question.
If you feel like you need airtime but are not getting it, simply click the "raise hand" icon and we'll call on you. Everyone find your "raise hand" icon. Raise your hand if you are ready for the day!
4. Breakout rooms are a great way to engage your team just like if you were in person. Through breakout rooms, you can split your team into smaller groups for discussion or group activities. As the host of the meeting, you can visit each of the breakout rooms individually and can pull participants back to the main meeting room anytime. If you will be using breakout rooms during your meeting, let participants know that will be happening up front.
Example language:
Even if you have used Zoom before, you may not have used the breakout rooms function. When you go into breakout rooms, you will be temporarily disconnected from the main screen and put into a virtual room with your other breakout room team members. While in your breakout rooms, continue to participate with your teammates. I will hop into each room to check on you and see if you need help. Always know you can use the chat function if something is not working or you need help.
5. Use whiteboards, annotation, polls, and other platform features to further engage participants. When team members can engage with you and others, they are more likely to be productive and attentive during your meeting. Make sure you mix it up! Provide variation in the way your team participates to increase engagement.
Example Activity 1:
Find a free word search or trivia game online, share your screen, and give everyone the ability to annotate. As participants enter the meeting, encourage them to engage in the activity before you start the meeting. This is also a great activity to use at break times. Before you know it, everyone will be trying to get into the meeting early to play the game of the day.
Example Activity 2:
If you are trying to make a collective decision, use the polling function to anonymously poll participants and come to consensus. You can also use polling as a fun way to vote on a question (e.g., Who has the best virtual backdrop?) or to check for knowledge (e.g., Who knows our most used customer feature?).
6. Create visuals during your meeting. Sometimes one of the biggest changes in participant engagement from an in-person meeting to a virtual meeting is the visual component. Keep your team on track by making sure you have a PowerPoint or video, even if it only follows the outlined agenda.
7. Provide diversity in who is presenting and speaking during the meeting. If your meeting is informative, have different people present information if possible. If you are engaging in any other meeting type, ensure you are asking for input. If you find participants are hesitant to interact or there is silence, don't be afraid to call on people.
The world of virtual connection is becoming our new norm, and it's here to stay. As of March 2020, 88% of organizations have encouraged or required work-from-home. Before that, an estimated 50% of the workforce were already working remotely. Now more than ever, our teams, customers, and stakeholders are counting on us to make remote work more engaging, requiring leaders to update their skills to support remote teams. As we continue to accelerate our remote meeting practices, it is important to take advantage of everything virtual meeting platforms have to offer. By doing so, we will fully engage our teams, and communicate and connect more efficiently and effectively. As leaders, we must jump in with both feet and embrace the unique opportunity at our fingertips.