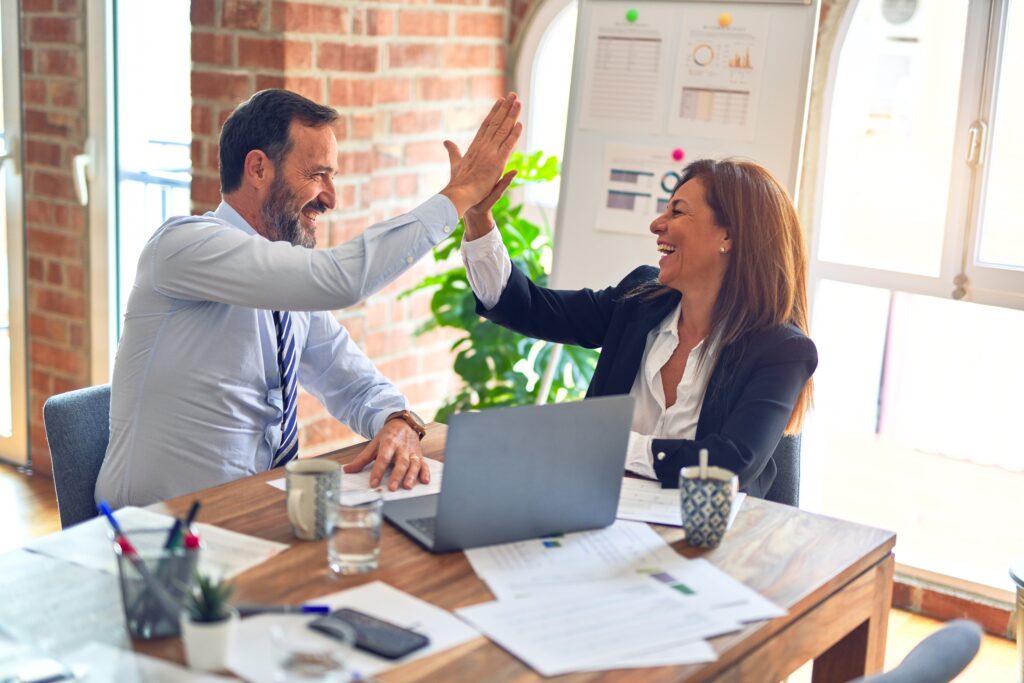 Take a minute to ask yourself, what does your HR department do for you?
Does your human resources team typically only engage in technical tasks like processing payroll and compliance reporting? Is HR viewed as the department that mostly resolves employee relations issues or organizes your employee happy hour? Do you view your HR professionals as a drain on resources, but necessary to avoid business liabilities?
If you answered yes to any of the above, then your organization is losing out!
Today's business trends are evolving, as are the demands of incoming talent. Focus is shifting away from workplaces that view employees as an expense to workplaces who view their employees as human capital who are essential to driving the organizational vision. More and more, employees value workplace culture, development opportunities, and diversity and inclusion, over just compensation.
Because of this, the days of your HR team simply serving a supporting administrative role are over. In order to acquire and retain top talent, keep your employees engaged, and effectively drive profitability and your business strategy forward, you need to re-envision the role and utilize HR as a strategic partner in your business.
Transforming your HR department from a supporting player into a key, strategic member of your executive leadership team does take work. Transcend has compiled some key motivations for building a strategic HR team and advice on how to make this important transition.
The Hidden Potential Value of HR
Gone are the days when HR was looked at as the department that doesn't generate revenue for your organization. HR is not just a necessary expenditure to ensure that key administrative and compliance aspects of the business are fulfilled.
When HR's focus shifts away from solely doing the typical administrative tasks to acquiring and retaining top, diverse talent, charting paths for career growth, and fostering an inclusive and high performance culture tied directly to your organizational strategy, your business wins!
While the results of strategic HR transformation may not be completely obvious, years of research show the value that having HR as a strategic partner brings.
TALENT AQUISITION & RETENTION:
Are you aware that it takes approximately 42 days to fill an open position (SHRM.org), and eight months for a new employee to become fully productive once they're hired? It's also estimated that, on average, the cost of hiring a new employee is $4,100+ per person, not counting benefits, training, and other job-related necessities (SHRM.org).
Furthermore, when employees leave they take 70% of their knowledge with them (tinypulse.com), and because high performers deliver up to 400% more than their mediocre counterparts (HBR.org), the cost of losing talent can pose a serious threat to your bottom line. In fact, many studies show that losing an employee can cost your business 1.5-2 times their annual salary (bobmorris.biz).
With this in mind, it's critical that HR is poised to recruit top talent aligned with your company's vision, culture, and organizational needs from the start. Then, once you've acquired the talent, it's vital that HR be actively involved in engaging, developing, and retaining the employees you have. It's estimated that 75% of workers who leave an organization could have been retained (workinstitue.com), and the following strategic HR initiatives have a lot to do with that retention.
EMPLOYEE ENGAGEMENT:
According to recent Gallup polls only 36% of employees feel actively engaged with their workplace. In other words, they feel involved, enthusiastic and committed to their job and their company and happy where they're at.
On the other hand 51% feel like they are not engaged in their workplace, and a further 13% feel completely disengaged. That means approximately 64% of the workforce is actively on the lookout for better job opportunities, and are prone to leave if they receive a slightly better offer.
Utilizing HR to make your employees feel engaged and connected to the vision of your organization is key to retaining your top talent. Not only that, but companies with an actively engaged workforce can more than double their odds of successfully achieving organizational objectives (gallup.com) than those who do not.
LEARNING & DEVELOPMENT:
70% of employees would be at least somewhat likely to leave their current company and take a job with one that is known for investing in employee development and learning (prnewswire.com).
Part of promoting engagement and retention means having an HR team that is prepared to provide employees with the knowledge, resources, and opportunities to acquire new skills and enhance their capabilities. This also means working with the executive team to help foster and build upon their own leadership skills, and develop new leaders that can be called upon in the future to move your company forward. Not only do you gain a more capable, efficient, and productive workforce by investing in employee and executive development, but your existing talent is more likely to remain loyal and satisfied when you do.
WORKPLACE CULTURE:
Half of employees would sacrifice as much as 29% of their salary to work at a job they enjoy (hrdrive.com). More than half of employees were willing to go to a competing firm in search of a better culture, and 48% said they'd consider working a 60-hour week in exchange for a better culture (speakapp.com).
Today, having a reputation for a positive company culture is key to attracting, engaging, and keeping talent. Employees are demanding flexible work hours, a healthy work-life balance, and a company culture that encourages employee engagement and makes them feel valued.
As a result your HR team must also be prepared to shape and promote that positive, inclusive workplace culture. They must keep in mind that your approach to culture should not only satisfy the needs of your employees, but be attractive to incoming talent and align with the values of your organization as well.
DIVERSITY & INCLUSION
Finally, strategic HR teams with a focus on embedding diversity and inclusion aligned with company objectives also bring tremendous value to their organization. By implementing a focus on diversity you are able to develop highly productive teams with more comprehensive skill sets, varied perspectives, and problem-solving abilities.
Studies show that companies in the top 25% for gender diversity among their business leaders are 21% more likely to experience above-average profitability, while companies that had high levels of cultural and ethnic diversity saw a 33% increase in performance (thenextweb.com).
But it doesn't end there. Companies who focus on hiring talent with a diverse range of work-life experiences are 45% more likely to see a growth in market share and 70% more likely to capture new market opportunities (thenextweb.com).
Furthermore, focusing on inclusion is just as important as diversifying your workforce. Your employees should feel like their knowledge, ideas, and perspectives are helping to drive the success of your business. This is why it is critical that every employee understands their role and how it's related to the bigger picture.
Ultimately, the administrative aspects of HR are still important and shouldn't be ignored. But utilizing HR as a business partner that collaborates on developing strategy and capitalizes on talent strengths to drive business results provides far more value than you may have imagined.
How Strategic HR Transformation Begins
The first step to making HR a strategic partner in your organization is to identify the right person to lead the department. Do you already have an existing HR manager or director that has the skills, knowledge, and initiative to strategically place talent and build a positive, high-performing culture? Do you need to look outside of your organization for this role?
Whomever you choose, for this endeavour to be successful, you need someone who understands the benefits and strategy behind each of the initiatives described above. Here some of the most important skills your people operations professional should have:
Collaborating with executives to drive the business strategy through mobilization of talent
Identifying pain points within your organization, and acquiring or developing the talent to deal with these challenges
Actively engaging your employees, and maximizing their experience at every stage of the employee lifecycle (from hire to retire)
Designing career paths and identifying development opportunities that inspire performance and increase results
Focusing on initiatives that develop a talent pool with a broad spectrum of backgrounds, viewpoints, and experiences
Establishing values as the basis for mindsets and behaviors that drive a positive and inclusive culture
All of these initiatives should be incorporated in HR's integrated talent management strategy, a strategy directly tied to driving the business strategy.
In order to accomplish this you must give HR a place at the executive table. This level of strategic approach requires more than just an understanding of the functional aspects of HR. Your HR leader must understand and be involved with developing your business strategy, so they can help you utilize talent and people operations initiatives to increase results.
In the end, your people drive your business. If you can't get the right people working on the right things at the right time you can't expect your business strategy to be successful. If you don't have support to implement the initiatives that help retain, engage, and develop the employees to carry out the strategy it will also fail. Therefore, it makes sense to elevate HR to a position where they can be a true strategic business partner.
Developing Strategic HR Leaders With People Operations Coaching
Whether you are hiring someone from outside your organization, developing a leader from within, or shoring up the abilities of an existing HR leader, people operations coaching helps them utilize the employee lifecycle to drive business results.
At Transcend, we start our process by giving your people operations professionals the tools they need to successfully create a talent management strategy aligned with your business strategy. We work with them to assess gaps and strengths in the employee lifecycle and determine which are the most critical components to achieving your unique business goals. From there, we make connections to the business strategy by providing insight into the best ways HR initiatives can enhance execution. We then work with your HR leaders to craft strategies to develop these initiatives and make organizational goals a reality.
Additionally, we give them the tools to be a great strategic partner to the CEO and other members of the executive team. An elevated position and new set of responsibilities often requires a change in perspective, communication style, and prioritization. Transcend coaches will work closely with your HR leaders to bolster and unlock the skills that will make them the best executive they can be. We will help them uncover and overcome limiting behaviors they may have possessed in the past, and allow them to understand how best to contribute to the executive team in a way that aligns with your company's goals.
By giving your HR leader the tools to be the best people operations professional they can be, your strategic HR team will become even more empowered, more productive, and more effective in driving your business strategy forward than ever before.
Conclusion
As we said, the days of HR operating solely as a supporting player are ending. Strategic, empowered HR teams bring in and retain the best quality talent. They are key to achieving your business objectives, increasing revenue, and cutting expenses.
Studies show that when you invest in strategic HR and craft an exceptional employee experience, you are four times more profitable (forbes.com) than if you do not. So what are you waiting for?
Contact Transcend for more information about our People Operations Coaching and how we will assist with your strategic HR transformation.