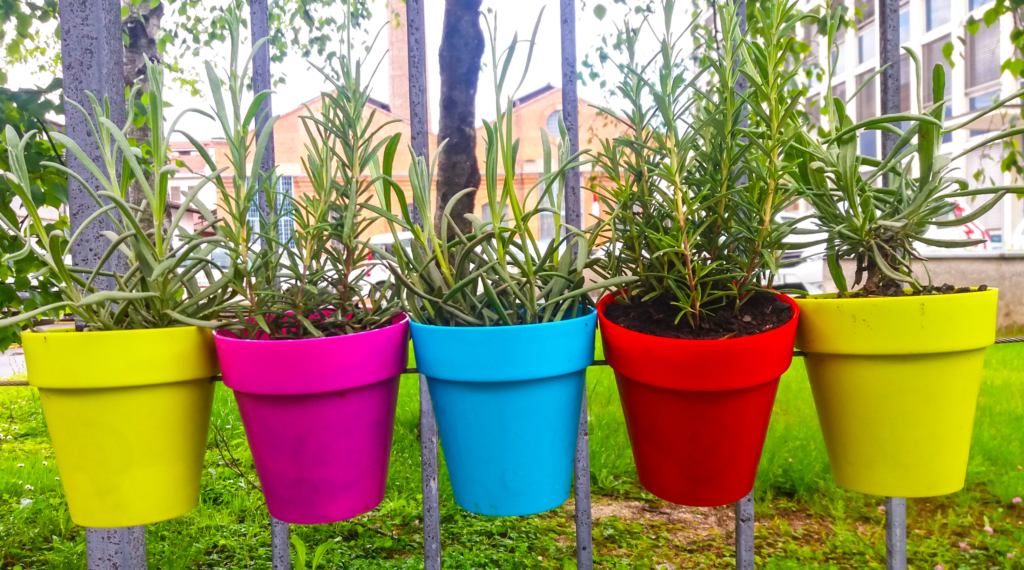 The Hidden Benefits of DEI Strategy: Diversity, Equity, and Inclusion that Deliver Bottom-Line Growth
Diversity, Equity, and Inclusion—DEI. These three components have become critical to a modern organization's cultural strategy for many reasons. The research supporting DEI strategy is vast, with conclusions ranging from competitive advantages for talent strategy to better decision-making and performance. In fact, there is so much research and conflicting opinions out there that it might be overwhelming to understand what the evidence really states. So, by compiling a cross-section of the research and discussing successful strategies with DEI experts, I'll highlight some of the most meaningful ways DEI has been shown to impact modern businesses and what's really in it for those who choose to make DEI a cornerstone of their people strategy. 
The Numbers Around Diversity
First, let's take a look at the numbers representing diversity itself in America. The U.S. population, and therefore, the nation's workforce, is becoming increasingly more diverse. And a more diverse America calls for a more inclusive workplace. As DEI becomes more ingrained in our culture, societal shifts are making it increasingly commonplace for younger generations to be their authentic selves. A trend that is tremendously meaningful for people like me, who, as a member of the LGBTQ+ community, struggled in my early career to be my authentic self in the workplace. I can say from experience that it is invaluable to be comfortable bringing my whole self to work, where a very large portion of time is spent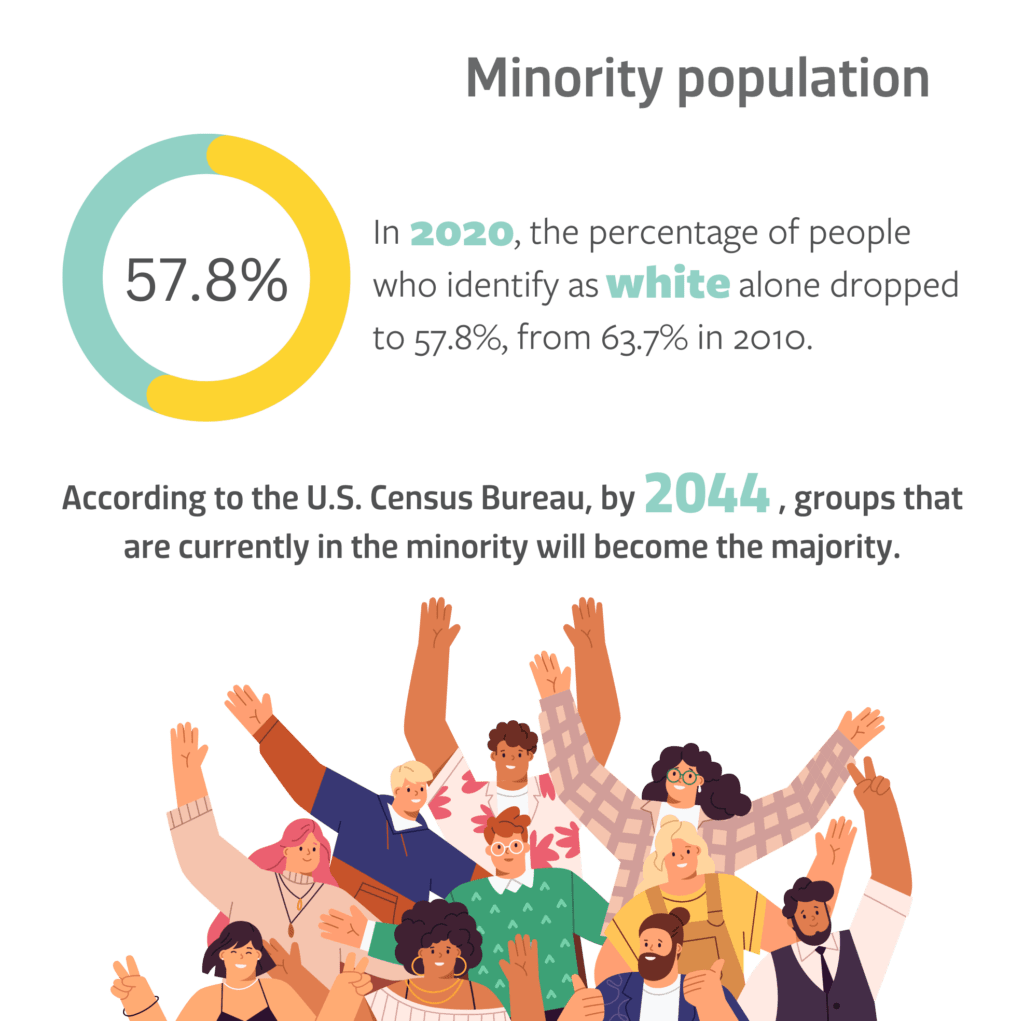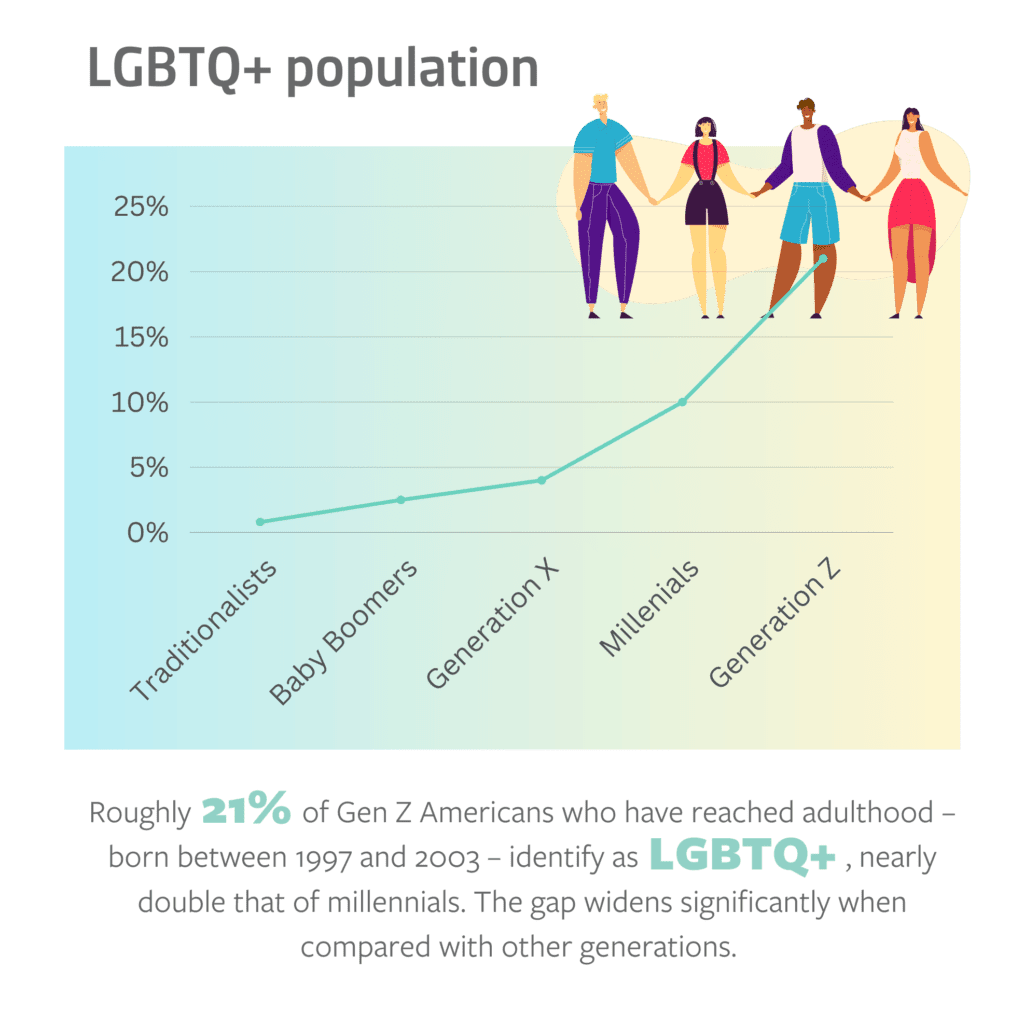 Talent Recruitment and Retention
With the U.S. becoming more diverse, it's easy to see why companies prioritizing DEI strategy have a proven competitive advantage in attracting and retaining talent. It's becoming increasingly important for job seekers to have an employer who values diversity. This, coupled with having a sense of belonging and opportunities to grow, helps fuel employee engagement.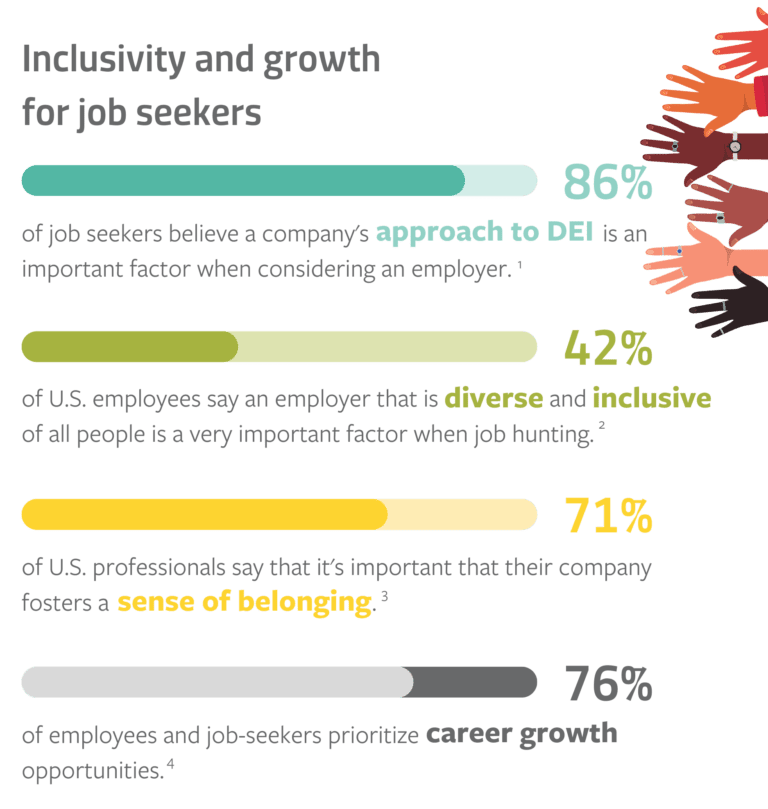 In a recent conversation with Dr. Steve Yacovelli, a specialist in DEI training and the owner and principal of Top Dog Learning Group, LLC, he agreed with the above research. He sees a focus on diversity, equity, and inclusion in the workplace becoming non-negotiable for millennials and Gen Z. Coupled with the expected national demographic shift, companies that do not take DEI strategy seriously will have increasing difficulty attracting and retaining employees. "Those companies that succeed in making DEI a tangible part of their culture will hire and retain the best and brightest people, bringing their friends along with them," says Yacovelli.  
Overall Well-Being in the Workplace
DEI contributes to an overall sense of wellbeing, which has become increasingly critical with respect to the uncertainty and volatility in the last few years — Covid-19-related disruption, social injustices, political disruption, etc.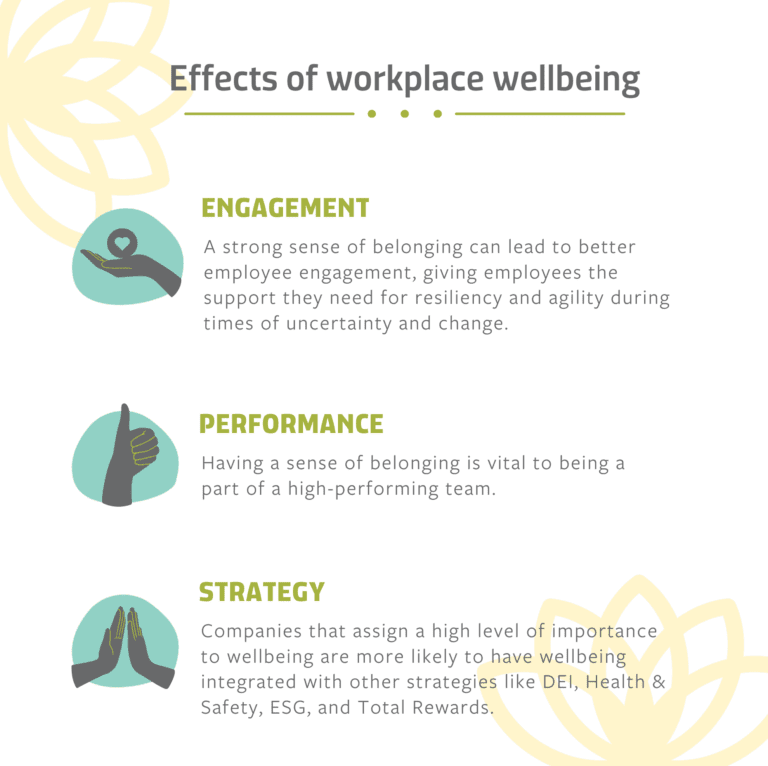 Strategy and Performance
Aside from the people- and culture-related benefits of focusing on DEI strategy, many CEOs neglect to identify and capitalize on the strategic and financial benefits of a diverse workforce. DEI is shown to impact decision-making and increase innovation and creativity in organizations. Diverse teams bring various perspectives and experiences, which can lead to new ideas and solutions.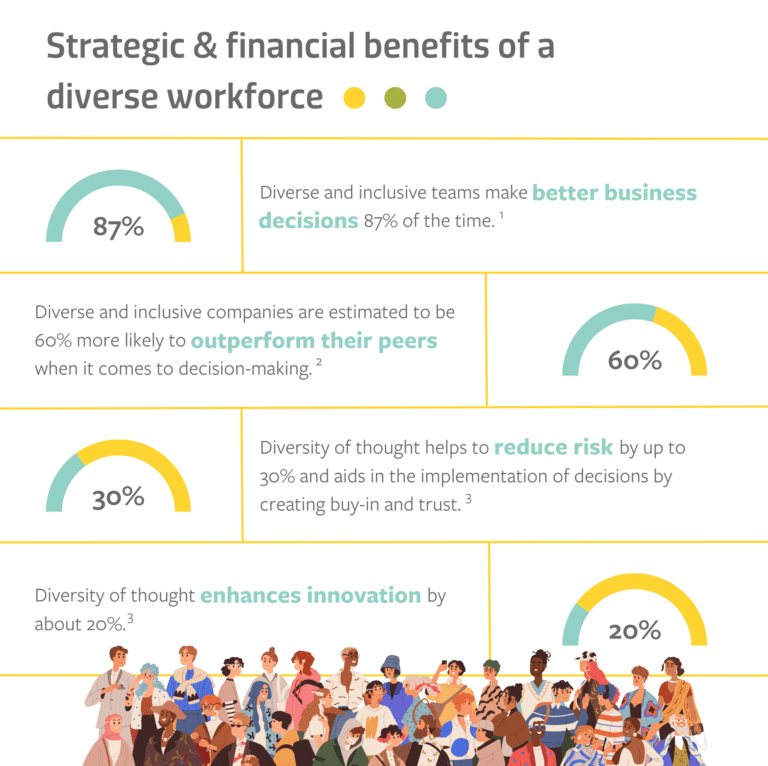 Leveraging DEI for Business Impact
Many organizations have tremendous opportunities within their diverse workforce — talented people craving development opportunities. By offering these individuals coaching, mentoring, and leadership development opportunities, the sky is the limit in how organizations can grow and shape their diverse leaders of tomorrow.  
Mellody Hobson, President and CEO of Ariel Investments and Chairwoman of Starbucks Corporation, shares the following insight in her 2014 TED Talk, "This subject matter can be hard, awkward, uncomfortable, but that's kind of the point. It's time to be comfortable with the uncomfortable conversation about race…We cannot afford to be color blind. We have to be color brave. Not because it's the right thing to do, but because it's the smart thing to do."
Keeping in mind Mellody's theory on color bravery and the idea that embracing diversity every step of the way is not only inclusive but good for business, here are some ideas for developing diverse leadership at every career stage.
Early Career Strategy — Mine your resource groups for golden talent
Employee Resource Groups, Business Resource Groups, or whichever term or structure your organization uses, can be a goldmine of talent potential. ERGs/BRGs are typically aligned around groups such as women, people of color, parents, people with disabilities, veterans, and the LGBTQ+ community, to name a few. These groups have clear cultural benefits, including inclusivity, community building, education/awareness, and employee experience. In addition to culture, they are often created with clear business objectives in mind, such as recruiting and retaining talent, meeting strategic business goals, and overcoming challenges. 
Whether they personally identify with a group or are allies, members of ERGs/BRGs have proven their investment in DEI purpose through mere participation. This is talent and passion that can be leveraged. Support them in growing their leadership skills by offering opportunities to take ownership and drive special projects within the group. Invest in their development with leadership training and as they grow, assign them as mentors for new talent. All these experiences will help them build a solid foundation of business and leadership skills that not only enable them to grow in their career, but will also drive engagement and retention for the organization.  
Natasha Miller Williams, VP, Head of Diversity, Equity & Inclusion at Ferrara Candy Company, headquartered in Chicago, shared with me how the company aligns its Business Resource Groups with some of Ferrara's key brands. For example, one of their brand's indexes high with the African American community, so they have leveraged their BE! BRG to better understand this brand's consumers. BE! started out as an ERG focused on creating an inclusive environment for Black/African American employees and allies through educational opportunities, networking, cultural events, and social gatherings. Since Ferrara's transition to a BRG structure, BE! has partnered with their marketing team in ideation sessions and innovation projects, in some cases participating in focus groups to better understand the purchase preferences of their consumers. 
This is a clear example of a structure that offers business benefits along with professional development and engagement opportunities through skill-building around leadership, budget responsibility, event planning, and executive engagement. 
Mid-Career Strategy — Diverse leadership development
Build your leadership bench strength and form your organization's diverse executive team of the future using this DEI strategy for talent development: First, through a nomination process, your senior leaders identify high-potential, mid-level, diverse leaders throughout the business. This will bring out the best and the brightest talent from all different areas of the business (Operations, HR/People Ops, Finance, Marketing, IT, etc.) and the full spectrum of diverse backgrounds (think broadly – women, people of color, LGBTQ+, people with disabilities, veterans, etc.). 
Many organizations offer emerging leaders development programs to build their leadership bench strength, but consider a spin on the traditional model. Implement a program that brings together these diverse, mid-level leaders for a shared learning experience that leverages their diversity of thought and background. Offer a blend of leadership, professional, and skills development, along with challenging projects and problem-solving to stretch their capabilities. Together, they can act like a think tank to analyze and solve challenging problems the organization faces. It's a win-win-win scenario: the talent grows their leadership and business skills, the organization grows its diverse leadership pipeline, and enterprise problems are solved. 
Senior leadership Strategy — Create a diverse mentoring program
Nominate individuals from across the business. Again, think diversity of demographics, thought, business unit, and lived experience. These should be your next-level executive leaders who can step into the C-Suite. Partner these leaders with senior executive mentors. The executive mentor should meet with them regularly to better understand their strengths and career aspirations and advise them on navigating their path to advancement. It's not a guarantee of a new role, yet the mentor can introduce them to the appropriate people, helping to identify future opportunities that might be a good fit for their skills and strengths. 
Consider pairing each participant with an executive coach to build their skills around the most essential executive competencies such as innovation, driving engagement, developing talent, emotional intelligence, and leveraging data to manage business complexity. Work closely with your HR/People Ops team to create a thoughtful, structured approach to this program that will develop the highly skilled, diverse C-Suite pipeline for which every organization strives. 
Success Stories from DEI Initiatives – Now and in the Future
As organizations look for ways to build their pipeline of diverse talent, many ask, "What DEI initiatives are most effective for building the diverse culture we desire, where innovation and creativity can flourish, and teams are empowered through decision-making?" A 2023 analysis by the World Economic Forum identified eight DEI initiatives that have demonstrated real impact and have the ability to inspire others. From EY's initiative aimed at hiring and developing neurodivergent individuals to Tata Steel's 25 by 25 initiative to have 25% of its workforce made up of diverse employees by 2025. 
To help prepare students for their future careers, many universities are making DEI curriculum mandatory. For example, in the fall of 2023, all 64 colleges in the State University of New York system will require incoming freshman classes to complete a course that includes a diversity, equity, inclusion, and social justice component. Through this program, students will learn to: describe the historical and contemporary societal factors that shape the development of individual and group identity; analyze the role that complex networks of social structures and systems play in the dynamics of power, privilege, oppression, and opportunity; and apply the principles of rights, access, equity, and autonomous participation to past, current, or future social justice action. 
As DEI continues to become more engrained in our culture, inside and out of the workplace, it can strengthen organizations while simultaneously making them more inclusive and attractive to a diverse workforce. It's clear that job seekers can see the benefits of DEI and that it is a significant part of what they look for in a company's culture. And the positive business impact of implementing more inclusive structures and processes into an enterprise is becoming impossible to ignore. As you begin, or continue, to leverage DEI strategies in your organization, doing so with intentionality and purpose will be the key to a successful implementation that will ultimately bring you more creative innovation, stronger decision-making, and a robust pipeline of diverse leaders. 
Evaluating Your Relationship with Diversity, Equity, and Inclusion
To jumpstart the next iteration of DEI success for your organization, I've included a complimentary download of Transcend's DEI Reflection tool. It all starts with executive leadership support and focus, so I created this tool to help executives understand their personal relationships with diversity, equity, and inclusion. It is designed to help you gain the personal insights you need to effectively drive meaningful and sustainable results in your organization.