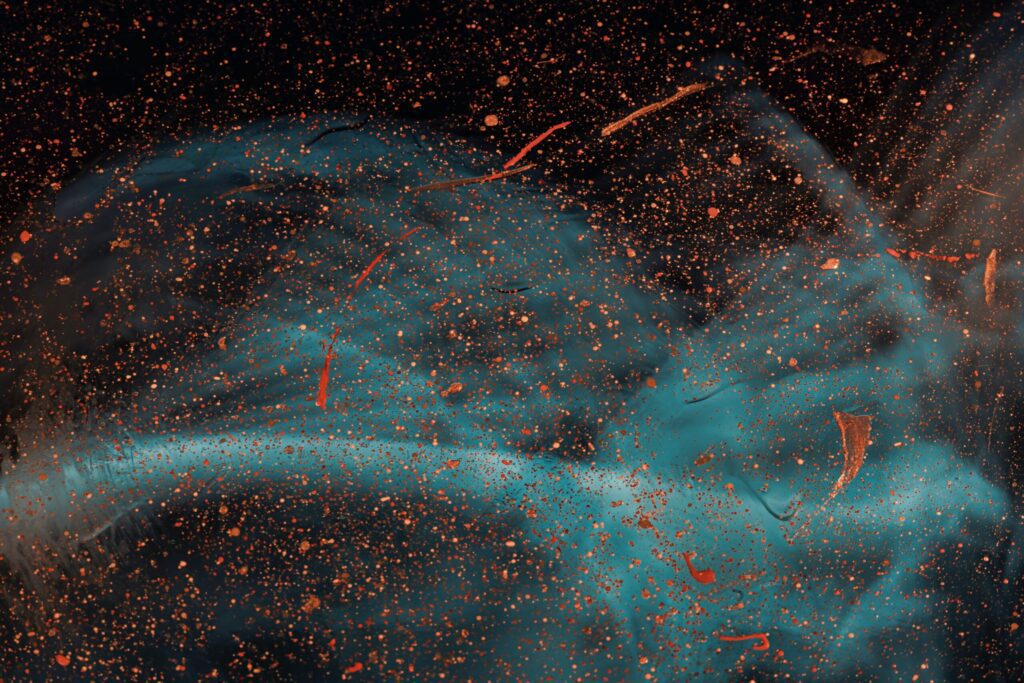 Why investing in talent management is critical to your business' bottom line.
A company's largest expense and greatest resource is its people and retaining talent. The cost of hiring an employee, on average, is $4,100 per person. This amount does not include benefits, which cost employers $15,000 per employee per year, training and development costs, and other job-related necessities such as computers, systems, and tools.
Even with this substantial investment and risk of significant loss due to turnover, companies still struggle to retain top talent. The average turnover rate in the U.S. is 18%, 13% of which is voluntary.  A 2019 report states that 75% of workers who choose to leave their place of work could have been retained, and 35% of employees will leave their jobs each year by 2023 to work elsewhere. Additionally, it takes approximately 42 days to fill an open position, exiting employees take 70% of their knowledge with them, and it takes eight months for a new employee to become fully productive once they're hired. Many studies show that losing an employee can cost 1.5-2 times their annual salary. And because high performers deliver up to 400% more than their mediocre counterparts, the cost of wasted talent poses a serious threat to your bottom line.
It is easy to see why billions of dollars are spent each year to hire, train, and support existing employees as part of a talent strategy, so why not keep them and maximize their abilities and creativity to drive the business strategy and maximize profitability? The fight to retain top talent within your ranks is on, and the question is whether you want to win the talent battle and deliver exceptional business performance.
Integrated Talent Management: The people strategy that brings your business strategy to life.
Integrated Talent Management should be central to your business strategy. Having a great strategy but refusing to focus on talent management for retaining talent is like bringing a Formula One car to the Indy 500 without gas. Building the "people" infrastructure within your business is the fuel for your performance. Motivated and creative employees get you where you want to go faster, and will stay with you through the ups and downs. When you integrate talent management with your overall business strategy, you will save money and boost your bottom line through increased levels of innovation, higher productivity, and satisfied employees who serve as internal brand ambassadors.
So, what is Integrated Talent Management? It's an integrated talent strategy designed to help organizations ensure maximum ROI from their talent. The goal of Integrated Talent Management is to strategically motivate top talent to increase positive customer/client experiences and drive business results. To accomplish these results, you must intentionally attract and engage top and high-potential talent using precise development of processes, systems, and tools to enhance the employee experience at every phase in the employee lifecycle, which will then directly engage them in business strategy implementation and help retain top talent. Studies show that when you invest in creating an exceptional employee experience, you are four times more profitable than if you do not. When the right people are in the right places and are supported in the right ways, they need less "managing," are highly engaged in their work, take ownership of their role, and champion innovation.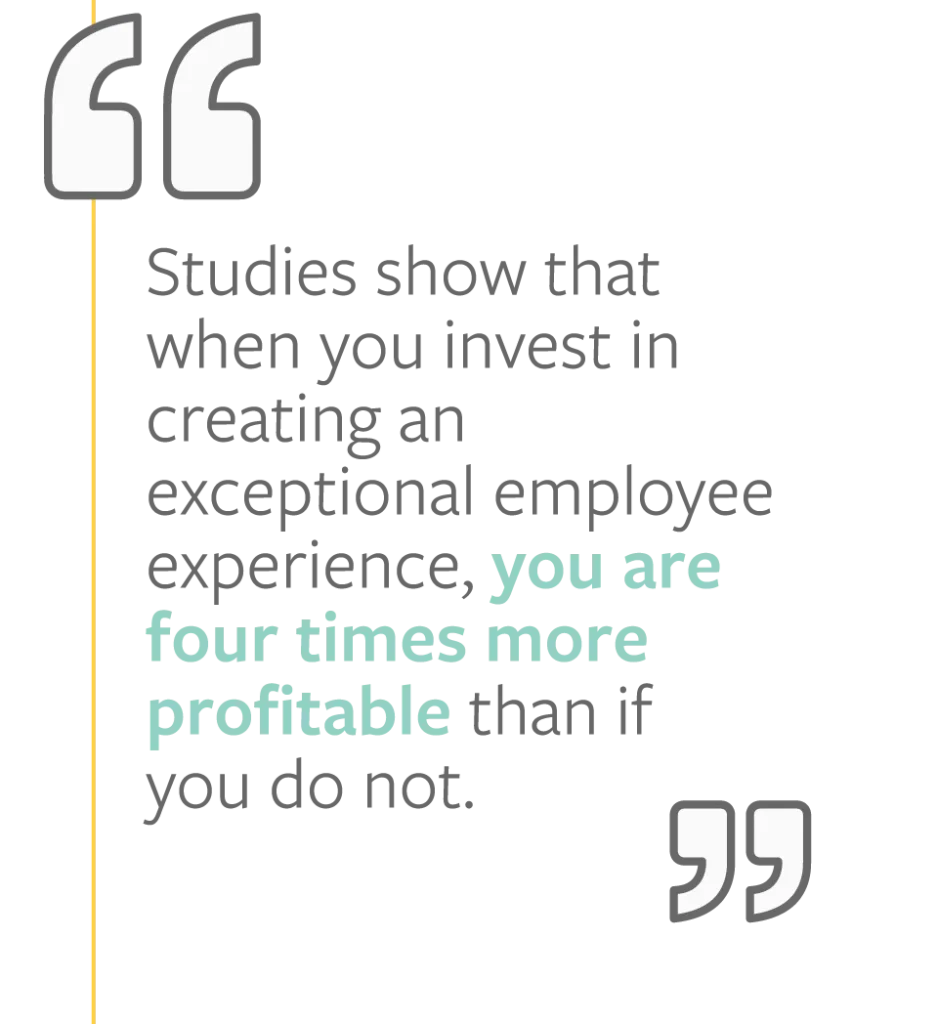 At Transcend, we approach Integrated Talent Management through two distinct strategies: Comprehensive Talent Development and Focused Employee Engagement. Focusing your talent strategies on these two areas will deliver the performance that reshapes your growth curve.
Comprehensive Talent Development
Having a comprehensive approach to talent development, or the employee lifecycle, is an essential component to any great Integrated Talent Management strategy. Traditionally, HR functions can run the risk of being siloed from the business growth strategy. However, with a progressive strategy that intentionally addresses each stage of the employee lifecycle and embeds clear goals that directly fuel the business strategy, talent is more engaged and all business units are driving growth. At Transcend, our employee lifecycle is composed of five phases: Hire, Onboard, Develop, Perform, and Transition. It is important to note that these "phases" are not necessarily chronological. For instance, throughout an employee's time within a company they may move back and forth between development, performance, and transition.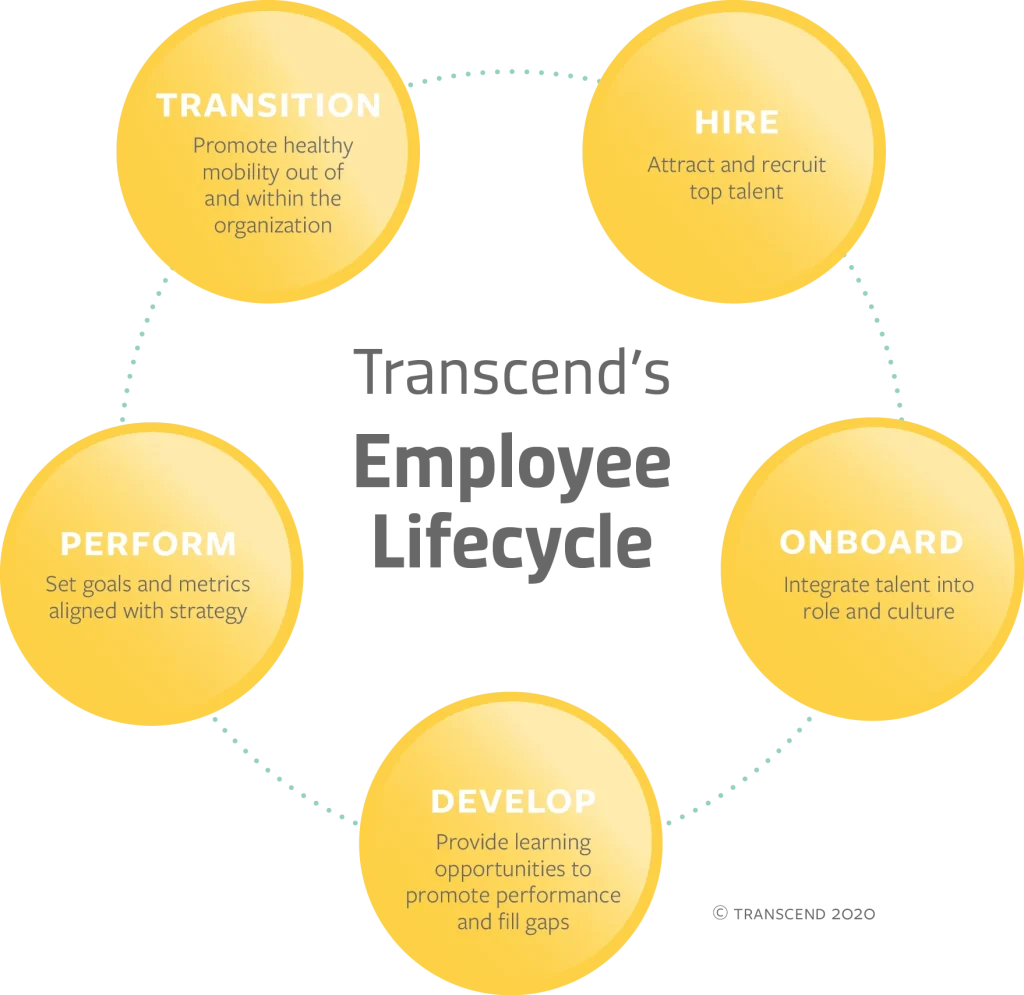 Let's look at each phase individually.
This stage of the lifecycle encompasses the development and engagement practices to attract and recruit top talent to your organization.
Once top talent is hired, a robust and aligned onboarding process that highlights culture, compliance, role expectations, and basic training, must be in place to integrate the new hire quickly and successfully.
Along the employee journey, the organization must be prepared to provide adequate resources, skill development, and share knowledge freely to enhance talent capabilities. This phase includes creating a transformational learning culture, where learning is embedded into the fabric of the organization, clear career paths, and professional development opportunities.
Implement performance management strategies that connect to the organization's values and rely on goal setting and metrics that are directly aligned with the business strategy. This phase also includes embedding compensation, incentive, and monetary and non-monetary reward structures tied to these performance measures.
The business must be planful for future talent needs and have a specific strategy for mobilizing talent within the business, determining what talent is needed outside the business, and preparing for tenured talent to move out of the business.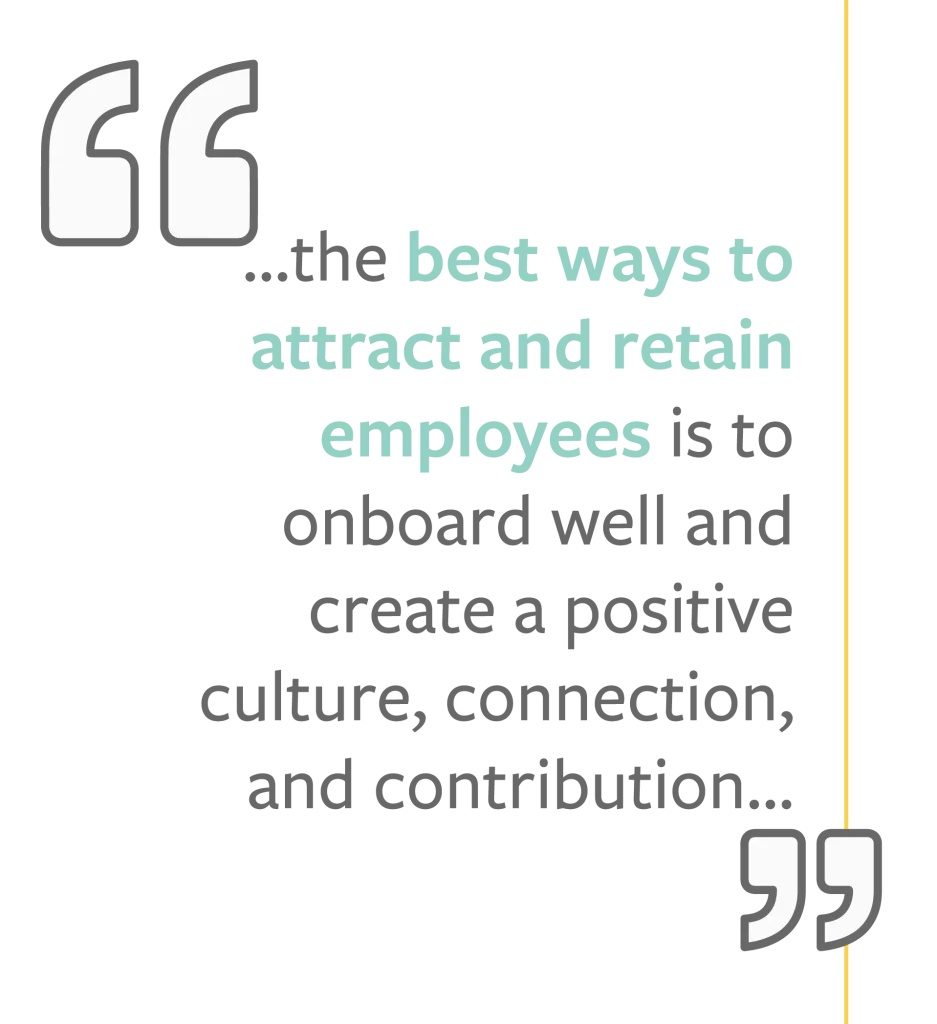 Research says the best ways to attract and retain talent is to onboard well and create positive culture connection and contribution throughout every part of the employee lifecycle. Top talent will use this information to stay or leave and prospective star talent is using this information to decide who to work for. Creating this cohesive culture through exceptional onboarding will be your competitive advantage.
Focused Employee Engagement
One of the most important factors in a successful Integrated Talent Management Strategy is focused effort on true employee engagement throughout all phases of the employee journey. Embedding engagement into your talent management strategy isn't rocket science, but it requires focus and dedication from the top down. A common misconception about "employee engagement" is that if you make your company "fun," you'll attract and retain talent. Examples of this include ping pong tables, "kegs in corners," "wine-down Wednesdays," and the list goes on. While this concept of fun is important in engagement and talent strategy, only relying on these benign activities doesn't really engage your workforce or help retain top talent. What matters most to employees is how connected and engaged to their work they feel. Daniel Pink outlined three tenets of how employees are motivated that we ask our clients to replicate with their organization: provide opportunities for autonomy, mastery, and purpose in their work. We advise these tenets are provided at the hiring onset through a dedicated onboarding plan, in meaningful opportunities for career and skill development, empowerment and decision-making, and by connecting each individual's role to something bigger than the tasks they do every day, as well as the company's strategy.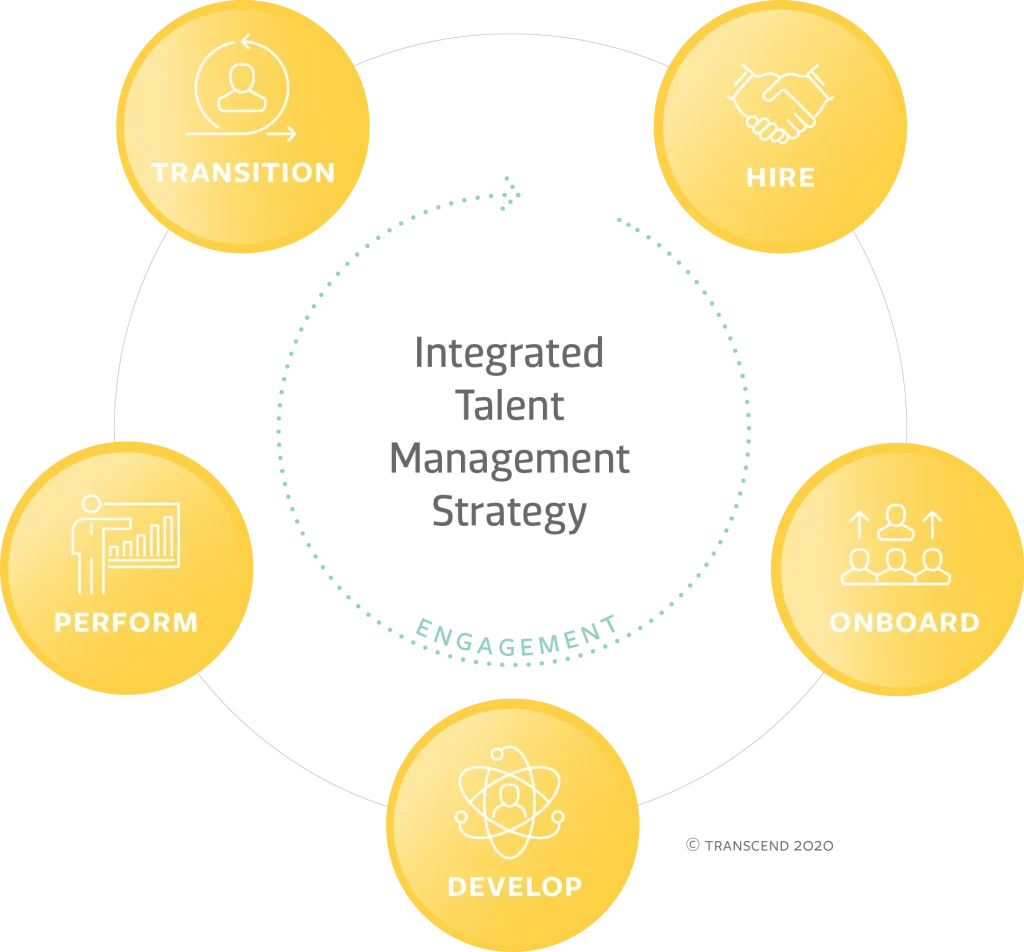 Employee engagement is not alongside talent management or development, but rather the driver within an Integrated Talent Management strategy. When you engage your workforce at all stages in the employee lifecycle, but especially during their onboarding experience, you will see maximum output. Companies with engaged employees and the quality of interactions employees experience at each stage of the employee lifecycle shape their perceptions of the organization, directly affecting their performance and your brand. When you create a culture of engaged employees who are connected to the overall business strategy, you provide the fuel to drive exceptional results and retain top talent.
Often when integrating talent management with business strategy, we find CEOs and executives don't know where to start. This could be the result for a number of reasons: a lack of HR resources or that HR resources are focused on compliance rather than people, or even because it seems like too much work.
Here are some of the elements we embed within our clients' businesses when aligning their talent to their business strategy. 
Lifecycle Phase

Category

Activities

Onboard

Onboarding Plans

Map out the first week and 30 days in detail for each new hire.
Dedicate time for the new hire to connect with colleagues and supervisors during their first few days.
Talk about cultural norms, important traditions, and reward structures.
Establish clear expectations regarding roles, responsibilities, and feedback structures early on.
Make sure the employee has access to and understands the company's mission, values, and short- and long-term vision.

Perform

Performance Management Basics

Align individual performance goals and metrics to the business strategy.
Tie compensation to performance metrics directly reflective of the business strategy, including values.
Assess talent frequently to understand where your strengths and gaps are and reallocate compensation with performance and results.

Develop

Learning and Development

Create transparent career paths to help people understand their trajectory within the business.
Prioritize opportunities (whether daily, weekly, monthly, or quarterly) for every employee to engage in meaningful professional development opportunities during work time.
How to effectively leverage Integrated Talent Management to drive profitability remains the CEOs biggest blind spot and topic of resistance. We have found ongoing trends among CEOs who under invest, under partner, and under resource the talent strategy aspects of the business. Often, they rely heavily on their tactical strengths in business to get the job done, rather than utilizing the tremendous talents of their employees to gain a competitive advantage. By focusing too heavily on the number-crunching, customer-facing aspects of the business, they leave their talent unengaged and mismanaged. Being tactical in your decision making and strategic planning includes implementing a solid, integrated talent management approach for retaining talent. We know that the top 9% of all leaders excel at both tactical and people skills so integrating people skills into your tactical strategy will be an essential component to your company's competitive advantage.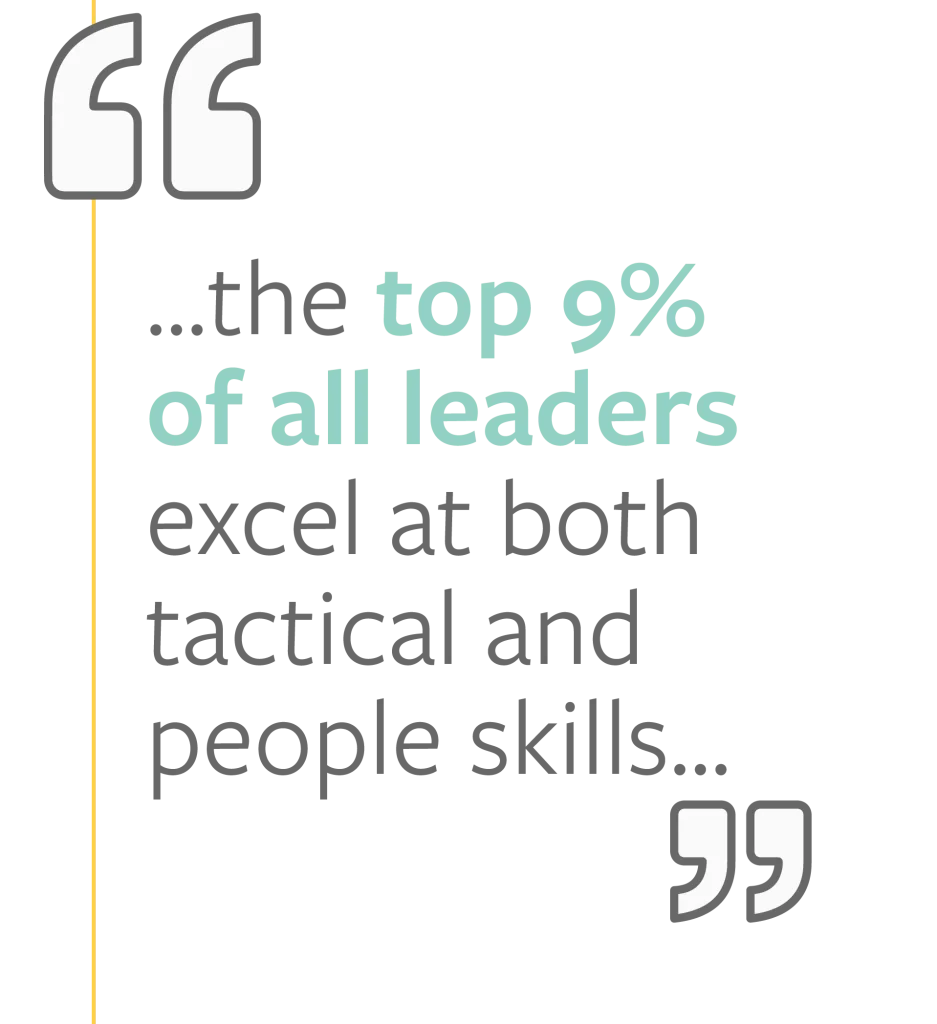 Transformational businesses leverage comprehensive talent development and focused employee engagement to drive profit by constructing the right people infrastructure. Bottomline: without an Integrated Talent Management strategy in these two areas, you are leaving a substantial amount of organizational ROI on the table. With focus and the right talent strategy in place, you'll not only retain top talent, but also flourish in ways you've never imagined. Ask yourself: What becomes possible when my employees are engaged, prepared to solve problems, collaborative, and ready to innovate in ways that are directly aligned with the business strategy?
Transcend provides dedicated coaching and strategic partnership in the design and delivery of talent management strategies that elevate business performance. We work with clients to pinpoint gaps in existing talent management strategies and create new strategies that deliver performance. If you'd like more information about how you can start making these changes within your business, reach out to one of our expert consultants today at contact@transcendbusiness.com.
Talent management is the third piece in a four-part series around reimagining performance within business. Please check out our other three articles in this series where we discuss performance and profitability, organizational agility, and visionary leadership.