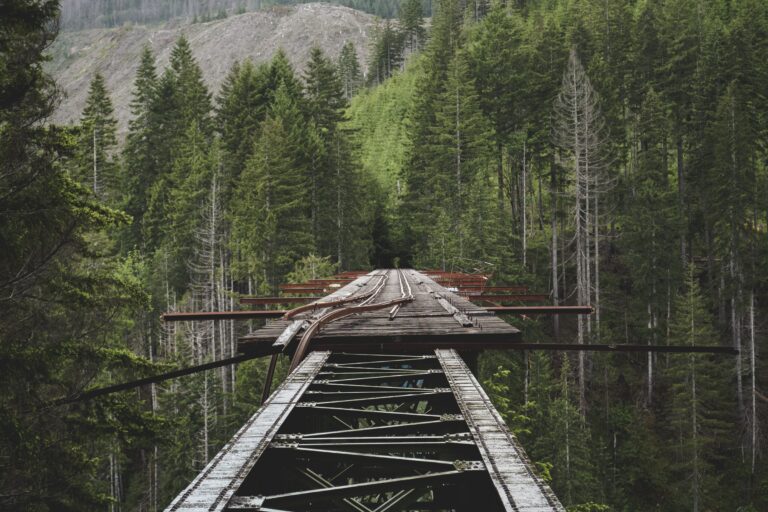 In 2023 we find ourselves in the era of disruption, where businesses are regularly challenged by forces beyond their control.
CEOs are on their toes, readying for the next big shake-up to their strategy, whether it be in the face of economic volatility, supply chain crisis, accelerated digital transformation, the talent revolution, or any of the other major changes we've seen hit organizations in the last few years. "Welcome to the Fourth Industrial Revolution—disruption is the new normal, and it's getting faster," says Eric Pilon Bignell, PhD and author of Surfing Rogue Waves, a book about navigating disruption in the 21st century. 
Disruption is here to stay, but before it can become a threat, there are opportunities to be discovered within it. However, most CEOs struggle when it comes to dealing with the onset of disruption in their business. The 2023 Alix Partners Disruption Index Survey, which included 3,000 global Senior Executives and CEOs, found the following: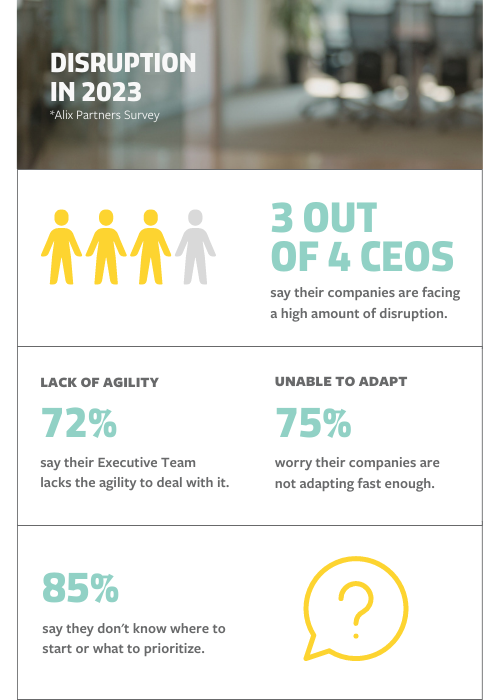 Instead of being in a state of constant fear that a new form of disruption might hit your industry, imagine being ready for it, or even excited by it. Using these practical strategies, you can have your competitors on their heels while you look on, confident and prepared for the next wave of disruption—or is it opportunity—to come knocking.  
 1. 
Identify and Seize the Opportunity
Think of disruption as your new economic driver. Keep an eye out for future disruptive trends by observing shifts and patterns in data from the economy, society, your industry, customer demographic and buying trends, and other data specific to your business. 
As you identify future disruptors that will affect your organization and industry, increase the creative capacity and collaboration of talent around them, poising your business and forging avenues for proactive change.  
Let's look at aging and birth rates as an example of a current disruptor in motion. According to the U.S. census, by the year 2030, every individual from the baby boomer generation in the United States will be older than 65. Senior citizens will outnumber children for the first time in U.S. history.  
Ask yourself: How will this shift affect my organization? In goods and services? In workforce and talent management? Are we planning accordingly? 
By seizing disruptive moments like this, leaders have an opportunity to create a unifying vision to drive the future success of their companies. A comprehensive response to disruption requires short-term rigor and discipline, coupled with long-term planning and innovation. 
2.  Double Down on Strategy
Antiquated leadership strategies, business models, and processes that formerly carried companies to the top of their industries are now falling short in the face of modern disruptors.   
Taking a deeper dive into the Alix Partners Survey, the data shows that executives see opportunities and threats in almost equal amounts. Growth-minded CEOs are accelerating the rate of business model change and doubling down on strategy to successfully navigate the business climate. 
In fact, 98% of those surveyed said their business model would need to change in the next three years. Successful growth leaders thriving in this disruptive environment are changing their business models and executing new strategies in 2023. For CEOs that remain uncertain, or even complacent, the risks have never been greater.  
Cultivate an Enterprise-First Mindset
"It's the CEO's job to encourage mindsets that prioritize decisions and actions throughout the organization. We've found the most powerful continuum of priority mindsets to be enterprise first, team second, and self third," says Transcend CEO Craig Wiley in this article for Forbes Coaches Council. When the enterprise comes first in critical decision-making for top executives and business unit leaders, the organization can remain agile and ready for change.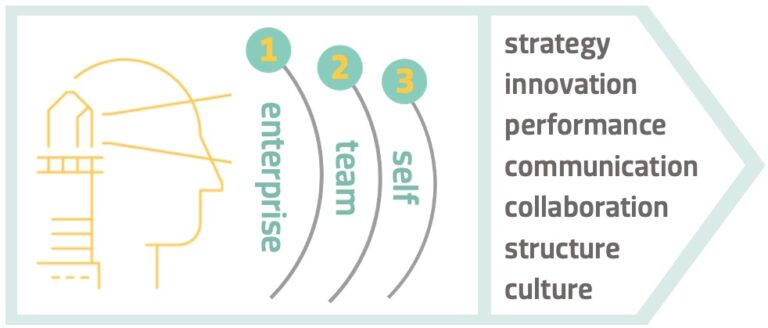 3.  Consider an Ecosystem Business Model
The current business environment has forced companies to rethink their partnership structures. As a result, ecosystem business models, defined as "a partnership between two or more entities that creates more value than any individual participant could create on its own," are emerging in almost every industry.
A growing number of companies across geographies and sectors are making ecosystem business models a strategic imperative to drive stakeholder value. An EY study of more than 800 business leaders leveraging at least one ecosystem business model has revealed that ecosystems drive on average 12.9% times the cost reduction and 13.3% in incremental earnings. Over 88% of CEOs surveyed believe the ability to form, lead and manage ecosystems will define a successful leadership team now and in the future. In order to make your transition into an ecosystem model successful while embracing disruption, lead with the following:
Implement a Performance Model to Connect the Ecosystem
At Transcend, we encourage our clients to use our Four Dimensions of Performance model to foster high standards of performance from within their organizations. Using a model like this will encourage accountability throughout the organization while allowing for more freedom, creativity, and innovation within an ecosystem model.
Fostering accountability with alignment, empowerment, and collaboration is a driving force of elite performance that can tie directly into the ecosystem.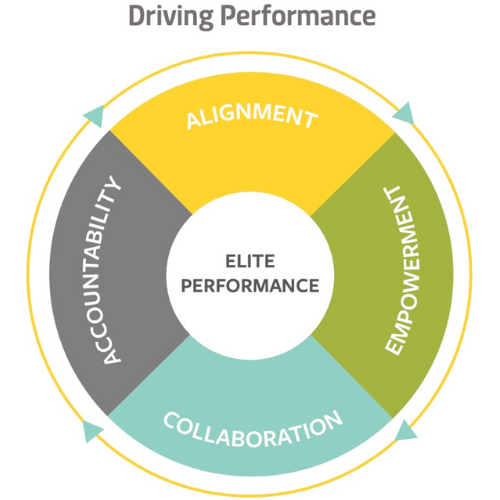 Disrupt Your Role—Chief Ecosystem Officer
To truly lead your organization through disruption, you as a leader must also change. By viewing your organization as its own ecosystem, you can determine where you'll play and how you'll lead to influence successful business model change and successful strategic execution—embracing the new role of Chief Ecosystem Officer.
As opposed to sitting atop an organizational hierarchy, the top executive must now manage many interdependent business verticals and key stakeholder relationships, while simultaneously responding to market forces and aligning on strategic solutions.
While CEOs will continue to be accountable, they will need to develop and empower their senior leaders to skillfully become thought partners, drive performance, and bring value to all key stakeholders through the entire ecosystem. This is the type of talent that will allow CEOs the time and space to elevate in place and architect both enterprise and ecosystem strategy.
The Key to Growth
Cultivating an environment within your organization that welcomes and embraces disruption is the key to seeing growth and competitive advantage in 2023. Learn to see disruption as an opportunity, create strategy that works with it, and rethink the way your business model runs within and around your industry. These touchpoints will ensure that you're not only keeping up with the pace of modern business, but that you are at the forefront of it, proactively building solutions that meet change head on.